Restaurants in Phoenix
Your event needs to be special. After all, your colleagues, friends and relatives are coming together for something momentous. That's why when it comes to events at Palomar Phoenix, we create a customized menu and experience that will leave your guests dazzled. Our ingredients aren't so secret. There's the stand-out seasonal menus created by our Executive Chef Sean Currid. And there's professional, spot-on service from our Five-Star team. It's all deliciously paired with an extensive wine list and creative craft cocktails. Your choice of venues includes our Blue Hound Kitchen, the stunning views and private cabanas of our Lustre Rooftop Bar. Together you have everything you require for hosting the ultimate private event in Phoenix.
For more information on private dining in Lustre Rooftop Bar or Blue Hound Kitchen & Cocktails, please contact our Restaurant Sales Coordinator, via email at catering@hotelpalomar-phoenix.com or via phone at 480-478-1737.
Lustre Rooftop Bar
Watch the RSVPs fly in when "Rooftop Pool" is added to your invite. Lustre, our rooftop bar, lounge and cabanas make for an oh-so-splashy soiree that will dazzle and delight your guests when paired with notoriously delicious cocktails, chef-driven small plates and spectacular city views.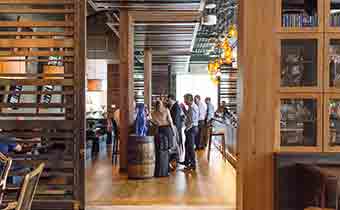 Blue Hound Kitchen & Cocktails
The culinary creativity of our executive chef means your private dining event will be buzzed about long after the toasts have been made. Whether you choose our bar area, a portion of the restaurant or a full buy-out, we'll wow guests with craft cocktails, inspired dishes and spot-on service.
Private Events on Our Patio
Sparkling bistro lights. Gorgeous downtown views. The inspired cuisine of our innovative chef. Put them all together and you have all the ingredients necessary for an unforgettable private party at our Blue Hound Kitchen & Cocktails patio.