Downtown Phoenix Local Artist Showcase
Over the past decade, the art scene of downtown Phoenix has blossomed and become central to the city's cultural identity - and it is no different here at Kimpton Hotel Palomar Phoenix.
ARTLAB, powered by Artlink, is our new fully-functional, working pop-up art studio and gallery located in the hotel living room. Local artists take center stage as our featured artists in residence, and utilize the studio to bring their creative works to life. We invite our guests and local community to stop in for cocktails at Blue Hound, and take the unique opportunity to watch the artistic processes, and appreciate art at inception, right there in the moment.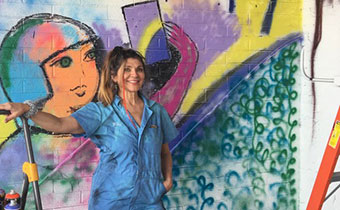 Meet Mitra Kamali, Artist in Residence
Mitra Kamali is a contemporary visual artist, human rights activist/educator and engineer who lives in Scottsdale, Arizona.
Artlink: Connecting Artist with the Community
Artlink Inc. is nonprofit with the mission to connect local artist of greater Phoenix with the downtown community by programming events, initiatives and activities.
Artlink promotes the monthly First Fridays and Third Fridays art walks, which have grown to become one of the largest monthly art walks in the United States.
Become Our Next Artist in Residence
Are you a local artist looking to change things up? Get inspired and take a break from your current studio by becoming a future artist in residence.